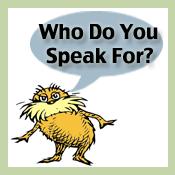 This is a question that my lovely friends Nicole and Galit have asked the blogosphere in line with that wonderful message from the Lorax who spoke for the trees. Why do you blog? What do you have to say? Who do you speak for?
Of course my first answer is instant.
I speak for my kids.
Although my daughter has been independent since Day 1, I still advocate on her behalf…I have just learned to make everything seem like it's her idea. Now that we are into the late teen years? This has been a learning experience for both of us and I could not be more proud of the young woman she has become.
My voice for my son on the other hand has always seemed louder. He has always been full of boy and curiosity, making him seem overly rambunctious at times. This has for some reason been viewed as hyper-active by outsiders, teachers, even with some family members. For years I have been patiently championing his personality because what they failed to see was the funny, incredibly kind person he truly is.
I speak for the inner-athlete
For all the times you have sat on the couch watching the people in the screen working out thinking you can't do it, I'm here to say
YOU CAN.
I am the motivator to get you off that couch and walk, do a jumping jack, throw a Frisbee, go for a bike ride, dance- whatever you like to do, get up and do it. Move your body. It doesn't matter what you didn't do yesterday, what matters is what you are doing today and tomorrow and the next day. Feeling better will not happen in five minutes. But I can guarantee that if you keep at it for more than 10 days, it will become a habit and you WILL feel better.
We all have that inner urge to move, I'm here to remind you.
I speak for the foodie
We all love to eat and have good food, right? I love food. I love to create it, share it and capture it. Nothing makes my heart sing more than someone enjoying a meal or treat that I have made. Food is a connector and the joy I find "speaking" through food with others makes me happy.
I speak for my dreams.
This may seem a bit selfish, but I have found my voice to speak for me. If I had a nickle for every person that said to me "you can't do that" or "why do you want to do that?" dripping sarcasm from their forked tongues, I'd be rich. No matter where my dreams have led me they have always, always been met with naysayers.
I'm going to run a marathon. (Why? You can't do that. Guffaw- you'll be last.)
Done. And I wasn't last. And I finished. Focus on THAT.
I'm going to speedskate. (Why? You are too old. Guffaw- you'll be last.)
Done. 8 years of competing- 5 of them Nationally. Yes, sometimes I was last, but I loved every second of it.
I'm going to be a writer- for real-like as in my new job. (Why? You're crazy. You'll never make any money. Guffaw-what, you think you're going to write a book or something?)
Done. 1 year ago today, I decided to chase my dream. And guess what? I AM making money. I DID write a book, and I am writing ANOTHER ONE. I'm the happiest I've ever been.
I gave all these things a voice, one that I hope will echo through life for a long time to come.
Who do you speak for?
If you like this post, you might also like these